Homeownership is everyone's dream. However, the economic upheavals of the recent years mean many Nevada residents are at the risk of losing their homes. If you've received a notice of default and are at risk of losing your home, a Las Vegas foreclosure attorney can give you a chance at keeping it.
At Nevada Bankruptcy Attorneys (NBA), we understand how nerve-wracking it is to lose a life-long investment such as a home. We leverage our understanding of Nevada's bankruptcy and foreclosure laws to protect your rights and investment. We have decades of experience handling complex foreclosure cases, so you can depend on our Vegas foreclosure attorneys to help you keep your home.
Anyone Can Face Foreclosure Proceedings
Thanks to the economic upheavals of the recent past, anyone can face foreclosure proceedings. It could be because you lost your job or your business isn't doing too great, and you can't keep up with mortgage payments. Regardless of your financial difficulties, you deserve the chance to keep your home, and we're here to protect your investment.
When faced with an unanticipated financial crisis and the risk of losing your home, we provide several options that prevent your mortgage lender from foreclosing or selling your home. Our foreclosure attorneys can formulate a foreclosure defense plan that saves your home and protects you from financial ruin.
The Foreclosure Attorneys You Need
During the initial consultation, we will listen to your situation, evaluate your finances, and determine the legal status of your lender's foreclosure action. Doing so helps us pinpoint your immediate needs and formulate a course of action and strategy designed for your situation.
When you retain NBA real estate lawyers, they will start to fight for you immediately and deal with your creditors to stop the ceaseless mail and phone calls. This restores your peace of mind and puts you on the path to resolution financial recovery. However, we can't help you until you schedule a free consultation with our team, so contact us today to get started.
Foreclosure Prevention Options
Many things will run through your mind when you receive a notice of default from your creditor. The situation is both nerve-wracking and confusing. Thankfully, we provide several options to prevent your creditor from foreclosing and selling your beloved home.
Some of the options we explore to prevent the foreclosure process include:
Short sale
Loan modification
Reinstatement
Pre-foreclosure equity sale
Deed in Lieu of foreclosure
Forbearance agreement
Wrongful foreclosure action
When you come to us, our skilled foreclosure attorneys can explain each of these options to you in detail. We can also help you choose the right course of action depending on your situation. NBA works with your best interests in mind to protect your hard-earned investment.
What is a Short Sale?
As the name suggests, a short sale is when your lender accepts less than the amount you owe to sell your home. A short sale can be an excellent strategy when you face foreclosure and want to vacate your home. If you choose to pursue this option, our experienced foreclosure attorneys can protect your rights during the short sale.
Your lender may try to reject the terms and conditions of the short sale or even short-change you. Our team is there to ensure none of that happens, and your rights are fully protected during the short sale. Besides, our real estate lawyers can help you identify realtors who can quote the best prices for your home.
The Foreclosure Process
In Nevada, foreclosure proceedings start when your creditor files a Notice of Default. It notifies you that your delinquent mortgage repayments have breached the limit as stipulated in the mortgage contract. The Notice of Default must get filed by the creditor to foreclose on your house.
Generally, these are the steps to foreclosure in Nevada:
Missed Mortgage Payments
If you miss a mortgage payment, your creditor may impose a late fee. However, if you fail to pay the late fee within 30 days, the creditor can take the first steps towards foreclosing your home.
Letter of Demand
When the initial delinquency period passes, your creditor may send a demand letter asking you to pay the balance due on the load or the entire delinquent amount within 30 days.
Notice of Default
A Notice of Default sets the foreclosure process in motion and often gets filed after you've missed your mortgage payment and the creditor has issued a letter of demand. It's filed at least 90 days after your first missed payment. When the creditor files a notice of default, you'll receive it from a trustee chosen by the mortgage company.
When you receive the Notice of Default, you might panic because the prospects of losing your home will look real. As Nevada's go-to foreclosure law firm, NBA is there to protect your rights. We can use all the resources at our disposal to ensure you keep your home until the matter gets fully resolved.
Responding to a Notice of Default
You can pursue several options after receiving a notice of default. These include:
Ignoring the Notice of Default
You may choose to ignore the Notice of Default, but this means your lender might take possession of your property as soon as they sell it at a trustee sale.
Fighting the Case
Most homeowners take this route when they receive a Notice of Default from their creditors. However, your limited knowledge of Nevada foreclosure laws hampers your chances of winning against your lender. Not to mention that your lender is likely to be represented by experienced attorneys.
You can level the playing field by choosing our attorneys as your foreclosure defense team. We understand all the tricks lenders employ during foreclosure proceedings. Therefore, we can fight to ensure you don't lose your home.
Filing for Chapter 13 Bankruptcy
Another effective response to a Notice of Default is filing for Chapter 13 Bankruptcy. It stops the foreclosure proceedings and gives you three to five years to catch up on your mortgage payments. Our attorneys understand Nevada's Bankruptcy and Debt Law and can leverage their expertise to stop the foreclosure and avert a trustee sale.
Judicial vs. Nonjudicial Foreclosures
When facing the foreclosure process, you'll encounter two key terms: Judicial and nonjudicial foreclosures. Here's a low down of these terms and what they mean to your case:
Judicial Foreclosures
These begin when creditors file a lawsuit petitioning the court for orders allowing foreclosure sales. If the mortgagor doesn't respond with a written answer, the creditors automatically win the case. Nonetheless, if you decide to defend the lawsuit, the court will access the evidence at hand and determine the winner.
If the court rules in favor of the creditor, the judge may order your home to be sold at auction. In a judicial foreclosure, the risk of losing your home is high, given that you breached the terms of the mortgage agreement. However, having an experienced attorney by your side can help prevent the auction.
Nonjudicial Foreclosures
Also known as statutory foreclosures, nonjudicial foreclosures follow the requirements of the Nevada Bankruptcy and Debt Law. Typically, the creditor undertakes the out-of-court processes outlined in the state statutes.
After completing the required steps, your creditor can decide to sell your home in a foreclosure sale. Mortgage lenders prefer the nonjudicial foreclosure process because it's cheaper and quicker than litigating the case in court.
Will I Lose Equity if My Home Gets Foreclosed?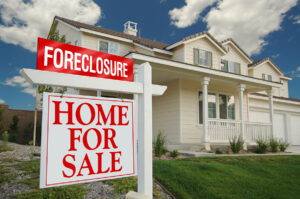 After working so hard to build up their equity, most homeowners are often concerned about losing it all if their homes get foreclosed. Nevertheless, being unable to save your home from a foreclosure doesn't mean you'll lose your equity altogether.
You can still recover the equity you'd put into the home. Equity is usually earned over time, and you obtain more ownership as you pay your mortgage. So, if you can't stop your home's foreclosure, the equity left after the sale will belong to you.
However, it's best to remember that the more you lag in your mortgage repayments, the lower your equity will be.
A Foreclosure Attorney Makes the Process Less Daunting
Lenders often make mistakes, and our experienced foreclosure lawyers will be ready to pounce and help you keep your home. Some of the common mistakes that lenders make include failing to prove they own the mortgage, not following state foreclosure procedures, and violating consumer protection laws.
Contrary to what you may think, foreclosure proceedings aren't an automatic win for lenders. At NBA, we're dedicated to giving you a fighting chance and helping you save your home from a trustee sale. So, don't give up on your investment when you have a team you can count on.
Don't Lose Your Investment, Contact NBA Today
If you're facing a foreclosure, don't try to fight it alone. Mortgage lenders have a lot to gain from the foreclosure process, but it means you'll lose your home. So, contact us today for a free consultation so that we stop the foreclosure process in its tracks.